You can accelerate your business growth with the right company structure, whether you're a startup or an established player. A certain formula exists for every SaaS (Software as a Service) company structure, fitting them no matter how big they get. It is a "one-size-fits-all" organizational chart that accounts for every growth stage.
Employees can waste time and resources creating a company structure that doesn't work. It will tank your business's morale and make it that much harder to get your golden product off the ground. We recommend trying this SaaS company org chart to prevent future internal chaos and your future software ambitions from collapsing.
Before You Invest in Your SaaS Product

SaaS startup founders will be involved in every company facet at this beginning stage since they don't have the necessary financing help. They will have to keep track of three business departments to lift their business for takeoff: sales and marketing, product and tech, and admin and processes. Each focus should have one team member in each to assist the founders.
You may think that your startup's marketing and sales teams don't matter since there are few to no customers before your first product strategy investment. However, you need to develop a preparation mindset that sees the value in discovering who your target audience is. Your SaaS business will hit peak performance and have proven once you nail down your product marketing.
Product and tech are straightforward: it is when you create innovative software that solves your customer's problems. However, there may be bugs and other errors your team has to fix during product development before your official launch. You must also structure your SaaS company to include admin and processes to handle legalities behind handling private client information.
As you continue in your SaaS business journey, these broad areas will become more specific and have numerous employees overseeing them. However, you and other founders will have to temporarily stretch yourselves without revenue-based financing or other funding.
~25 Full-Time Equivalents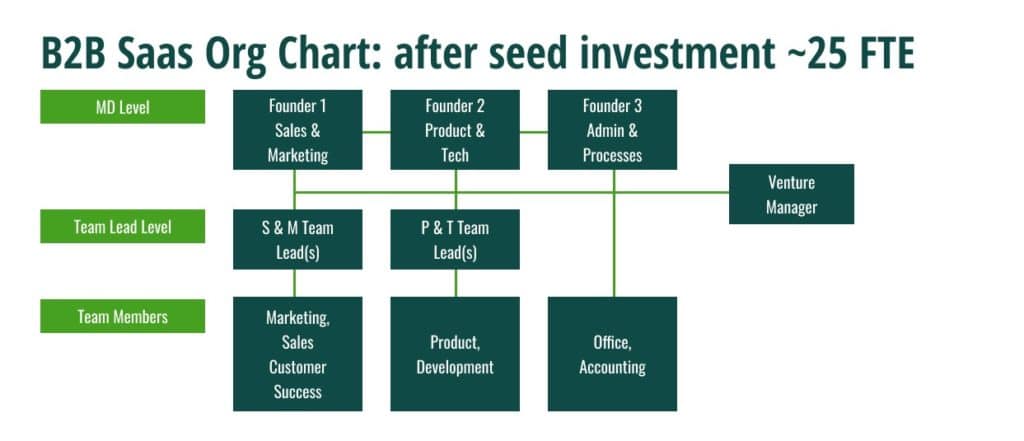 New team leads and a Venture Manager will assist your SaaS business and take on new responsibilities as your company moves into the second growth stage. Although you and the other founders will lead the same primary teams, your new reinforcements will free you to do more than before.
You will encounter conflict at this growth stage, since you must choose between your current team members or new managers to fill those higher-level positions. There can be jealousy among a number of employees, but, on the other hand, another person stepping in can be a relief if they don't want to take more responsibility.
The Venture Manager will become a key asset to your SaaS company by taking your and other founders' lower-level tasks, such as CRM tool implementation and team member recruitment. They can become your business's COO a few years down the road if they are excited about your software and will stick with you.
50 Full-Time Equivalents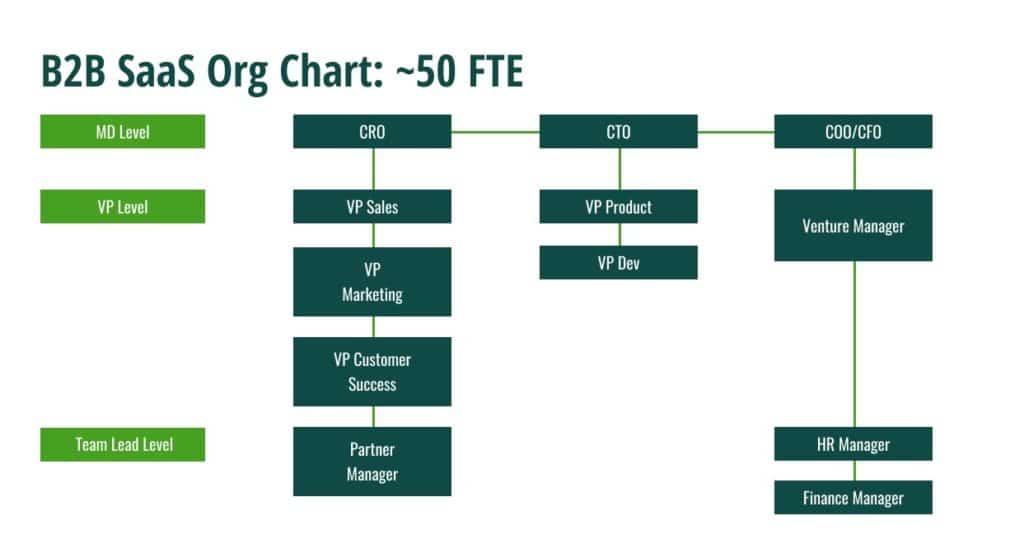 Your SaaS business rolls into an official startup with 50 employees, which requires an adaptable company business model, so your team doesn't lag behind. This org structure calls for VP-level employees over every department. They will assist with product management and narrowing each department since you have the funding and people.
We recommend hiring VP's for sales, marketing, product, dev, etc., promoting you and other founders to higher-level positions. You all will rise to CRO, CTO, and COO/CFO operators, where your company's organization allows you to focus your energies on executive decisions and VP management.
The last thing to note with 50 full-time equivalents is hiring an HR manager to support your Venture Manager. Similar to your previous situation, there is a point where they will receive too much work and will need someone to delegate it to.
~125 Full-Time Equivalents and Over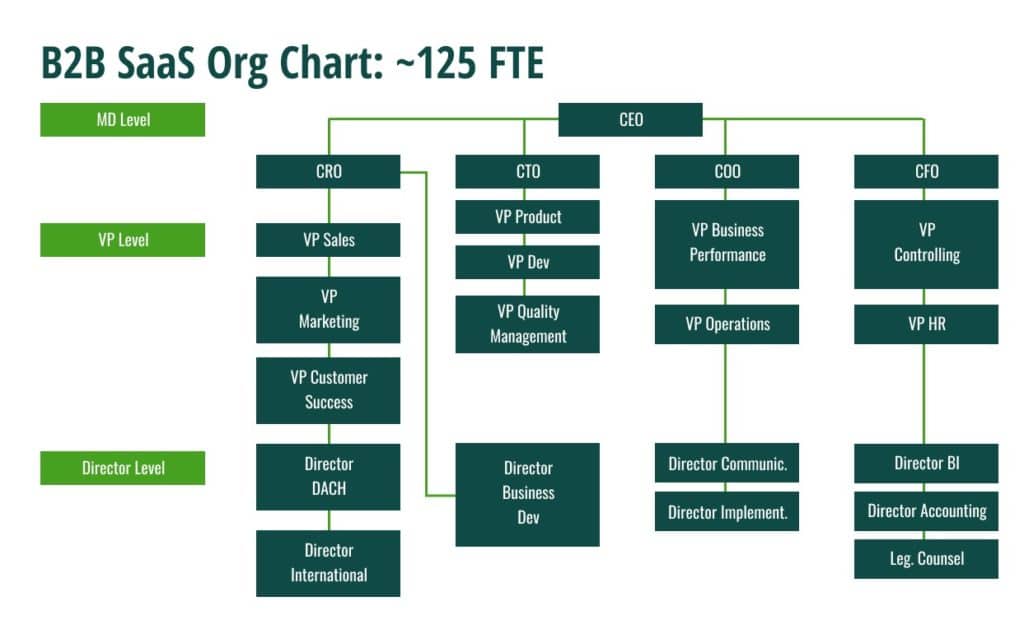 When your once small startup accelerates into the stars, your company organizational structure will have to mold. Mainly, one of the founders has to assume CEO status while everyone else trusts his leadership. This decision is monumental toward continuing your company's upward trajectory if you pick the correct leader.
The VPs you added for 50 Full-Time Equivalents will need VP's underneath them, and so forth. You could add some additional positions to your SaaS business, such as Director of Business Development and Director of Communications. However, your new CEO and your MD Level team need to evaluate your company's situation and make that call.
Grow as You Go
We're firm believers that any good SaaS company organizational chart should account for growth. As more developers, marketing specialists, and sales representatives get excited about your product, you need to expand your operations by adding more team members.
Our staff is just as convinced there are certain company growth points where financing is necessary to grow your SaaS business. "Grow as you go" is our company motto that directs how we dispense financing to established SaaS businesses and startups. To learn more about SaaS financing, Contact Us today.